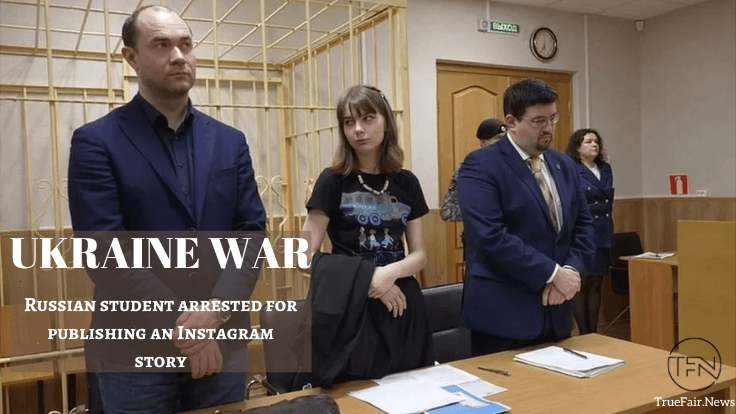 College student Olesya Krivtsova missed many lessons.
Because she is 20 years old Olesya is under house arrest. She has an electronic tag on her leg in which Police can monitor their every move.
Olesya was arrested for her anti-war posts on social media that involved an explosion on a bridge connecting Crimea, which was annexed by Russia last October.
"I posted an Instagram story about the bridge, reflecting on how Ukrainians were happy with what had happened," Olesya said (According to BBC)
She also shared her friend's post about the war.
Then the drama started.
"I was talking on the phone to my mother," Olesya recalls, "when I heard the front door opening. Lots of police came in. They took away my phone and shouted at me to lie on the floor."
Olesya was accused of justifying terrorism and discrediting the Russian military. she will face up to 10 years in prison.
"I never imagined anyone could get such a long prison sentence for posting something on the internet," Olesya says. "I'd seen reports of crazy verdicts in Russia, but I hadn't paid much attention and continued to speak out."
A student at the North Federal University of Arkhangelsk, Olesya was added to the official list of Russian terrorists and militants.
"When I realized I'd been put on the same list as school shooters and the Islamic State group I thought it was crazy," recalls Olesya.
Under her house arrest rules, she is not allowed to use the phone or go online.
Her Olesya has a striking tattoo on her right leg. Russian President Vladimir Putin is depicted as a spider with the inscription "Big Brother is watching you."in Orwellian style.
In Olesya's case, it seems that her classmate was watching over her, not her brother.
"A friend showed me a post about me in a chat," says Olesya, "about how I was against the 'special military operation'. Most of the people in this chat were history students. They were discussing whether to denounce me to the authorities."
The BBC has seen excerpts from her chat with the group.
In the comments, Olesya is accused of "provocative posts of a defeatist and extremist character. This is out of place for war-time. It must be nipped in the bud".
"First let's try to discredit her. If she doesn't get it, let the security services deal with it."
"Denunciation is the duty of a patriot," wrote another.
Later, when the list of prosecution witnesses was read out in court, Olesya recognized the names from the student chat. Later that day, Olesya was allowed to leave the apartment. But just attend court hearings. Her defense attorneys are trying to persuade a judge to lift restrictions on her movement.
Olesya's T-her shirt features a picture of a police car with the words "School Bus" on it. A commentary on how Russian youth are being punished for criticizing the authorities.
"The state doesn't have the stomach for debate, for democracy or freedom," Olesya says. "But they can't put everyone in prison. At some point, they'll run out of cells."
The judge decides to put her under house arrest.