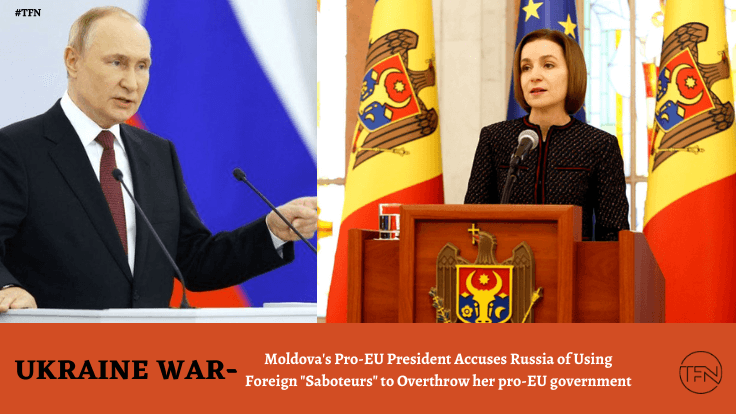 On Friday, Maia Sandu nominated Dorin Lethian, who is pro-EU like her predecessor, as the new prime minister.
President Sandu said the "plot" included "protests by the so-called opposition" aimed at "overthrow the constitutional order".
Russia's war in neighboring Ukraine has taken its toll on Moldova, one of Europe's poorest countries.
Last week, Ukrainian President Volodymyr Zelensky said Kyiv intelligence had revealed a Russian plan to destroy Moldova.
Sandwiched between Romania and Ukraine, Moldova came forward as a candidate for her EU membership last summer. The country, with a population of 2.6 million, grapples with an influx of refugees from Ukraine and tensions with Transnistria, a separate pro-Moscow region where about 1,500 Russian soldiers are stationed.
Moldova, which was part of the former Soviet Union, depends on Russia for natural gas. This past year coincided with a Russian attack on Ukraine's energy infrastructure, which saw her suffer a power outage.
President Sandu said Russia planned to "saboteurs with a military background, camouflaged in civilian clothes, to undertake violent actions, attacks on state institutions and taking hostages"
The conspiracy would involve citizens from Russia, Montenegro, Belarus, and Serbia entering Moldova, she told a press conference.
She urged Moldova's parliament to pass a bill that would give the country's Intelligence and Security Service (SIS) and prosecutors "the necessary means to fight more efficiently against national security threats" asked. "She added that "the Kremlin's attempts to bring violence to our country will fail" she added.
Moldova's main socialist and communist opposition blocs have close ties to Moscow. President Sandu's predecessor, Igor Dodon, who ruled from 2016 to 2020, maintained close ties with Russia.
However, since the collapse of the Soviet Union in 1991, Moldova has developed a deeper partnership with her EU member, Romania. Former Prime Minister Natalia Gavrilita announced her resignation on Friday and said no one expected her to "manage so many crises caused by Russian aggression in Ukraine" when her government was elected in 2021.
Sandu said Moscow's plans include citizens from Russia, Montenegro, Belarus and Serbia entering the country and launching protests to "change the legitimate government to an illegal government controlled by the Russian Federation" claimed.
"The plan for the next period involves actions with the involvement of diversionists with military training, camouflaged in civilian clothes, who will undertake violent actions, attack some state buildings and even take hostages," she said.
"The purpose of these actions is to overthrow the constitutional order, to change the legitimate power from Chisinau to an illegitimate one, which would put our country at the disposal of Russia in order to stop the European integration process," Sandu said. .
"The Kremlin's attempts to bring violence to Moldova will not work," she added. "Our main goal is the security of citizens and the state. Our goal is peace and public order in the country. "
There was no immediate reaction from Russian authorities to Sandu's allegations.
Last year, Russia denied any intention of intervening in Moldova after Transnistrian officials said the country had been targeted in a series of attacks.