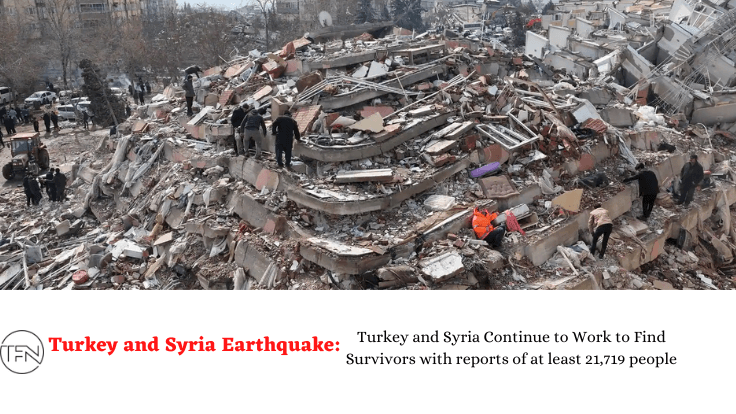 Turkey's death toll rose to 18,342 as of Friday morning, when more than 21,000 people were killed and thousands injured in Turkey and Syria. The number increased by 668 overnight. The latest update from Syria shows 3,377 dead, taking him to a staggering 21,719 in just five days, with more expected to rise. Turkey said about 3,000 buildings had collapsed in seven different provinces, including public hospitals. A famous 13th-century mosque has partially collapsed in Maltaya, collapsing a 14-story building containing 28 apartments for 92 people.
At least 28,044 people have been evacuated from Kahramanmaras, one of Turkey's southern provinces hardest hit by Monday's earthquake, according to Turkey's civil protection agency, 23,437 by plane and 4,607 by road. and evacuated by train.
Rescuers pull a woman alive from the rubble of a collapsed building in Turkey, cheering onlookers some 104 hours after she was buried in a massive earthquake that brought death and destruction across the region.
Rescue workers in Germany carefully lifted Zeynep Kahraman, 40, on a stretcher past his blocks of crushed concrete and bent metal to an ambulance in the city of Kirikhan.
"Now I believe in miracles," Steven Bayer, the leader of the International Search and Rescue team said at the site.
"You can see the people crying and hugging each other. It's such a huge relief that this woman under such conditions came out so fit. It's an absolute miracle," he said.
World Health Organization Director-General Tedros Adhanom Ghebreyesus is en route to Syria, where the WHO is part of the response. The UN plans to send aid chief Martin Griffiths to Gaziantep, Turkey, Aleppo, and Damascus, Syria this weekend.
In total, up to 23 million people could be affected by the quake, the WHO said, pledging long-term relief. said to be deployed in the affected areas.