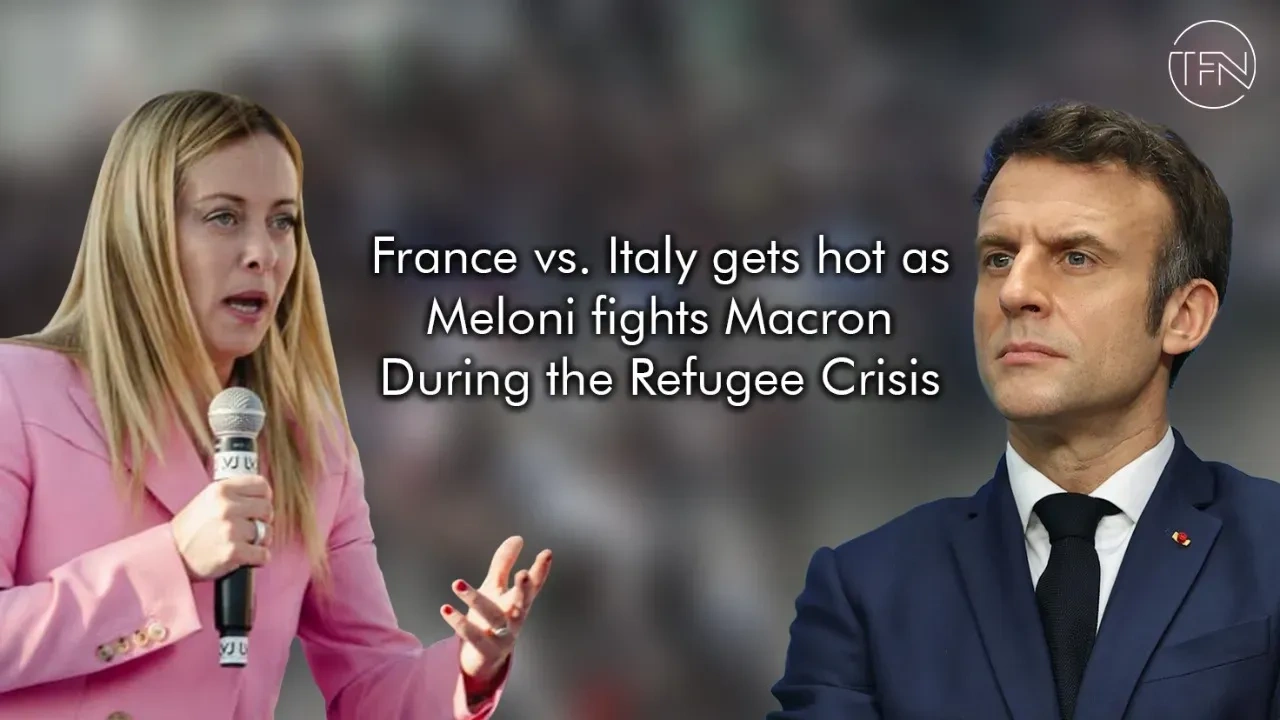 Over who should receive migrants on rescue ships, relations between France and Italy have taken a severe hit. Giorgia Meloni, the prime minister of Italy, has accused France of treachery as the two countries disagree over who should accept migrant rescue vessels.
Following Italy's refusal to allow the NGO ship Ocean Viking to dock and instead sending her to France, Paris halted plans to accept 3,500 migrants from Italy as part of a European redistribution agreement and advised other nations to do the same. Gérald Darmanin, the interior minister of France, recently disclosed measures to reinforce the Italian border to deter migrant crossings.
The desire that other countries isolate Italy, in my opinion, undermines the European dynamic of cooperation and sharing, Meloni claimed at a press conference in Rome on Friday, blaming the event on "a misunderstanding."
Just a few weeks into her term as prime minister, Meloni finds herself embroiled in a diplomatic dispute that threatens to jeopardize Rome's interests and isolate her in the continent despite her campaign pledge to protect Italy's interests in Europe.
Meloni noted that Italy has taken in 90,000 migrants from the Mediterranean this year, including 600 from NGO vessels on the same day that France agreed to take 234 on the Ocean Viking. She was astounded by the "aggressive reaction" of the French government, which she described as "incomprehensible and unjustified."
According to Meloni, an EU-wide voluntary plan for redistributing migrants has failed miserably to achieve its objectives. Only 117 of the 8,000 persons who were supposed to leave Italy have done so, 38 of them to France.
According to Meloni, Italy could hardly serve as the entry point for all African migrants into Europe. She demanded the deployment of a European naval expedition to stop migrant departures from North Africa and set up hotspots for migrant detection.
Just a few weeks after assuming power, a right-wing coalition couldn't resist the chance to show how strict they were with immigrants.
The anti-immigration League technocrat Matteo Piantedosi, minister of the interior, criticized migrant rescue ships for "not being in line with the spirit of European regulations on border control" and denied numerous NGO ships permission to dock. According to him, immigrants should apply for asylum in the nation where the NGO vessel's registration was located.
Only vulnerable migrants were permitted to disembark during a week-long standoff with numerous rescue vessels, which prompted some passengers to go on hunger strikes and jump overboard.
Members of the coalition rejoiced after Ocean Viking departed in favor of France. The air has changed, declared League leader and vice prime minister Matteo Salvini. The Forza Italia senator Maurizio Gasparri stated: "The strategy of resoluteness on immigration pays handsomely."
However, the festivities caused a stir in France, where far-right leader Marine Le Pen had lambasted the government for being lax on immigration. The European Commission reprimanded Italy in Brussels at the same time, insisting that immigrants must be permitted to exit right away.
As member states start negotiations over the overhaul of the EU's fiscal regulations, analysts and opposition lawmakers warned that the episode ran the risk of alienating European friends and institutions at a time when goodwill was crucial for Italy.
Assuring leaders that Italy would be a responsible European partner, Meloni chose Brussels as the destination for her first international trip as premier last week.
She requested that the commission modify Italy's post-pandemic economic recovery plan and use the 2014–2020 EU Structural Funds that had not yet been used for actions to address energy prices that would require an adjustment to EU regulations.
The opposition forewarned that consequences would follow the incident.
According to left-leaning Democrat Lia Quartapelle, Italy "needs alliances in Europe to achieve results — on the reform of fiscal rules, the SURE fund for unemployed, and energy security. Fighting with European nations on landings may help Italy gain a few polling points, but it hurts Italy's interests.
Former Italian junior minister for Europe and current MEP Sandro Gozi claimed to France 24 that although Meloni "continues to push extremist right propaganda" in Rome, she "pretends to engage with Europe" in Brussels. Given that we are getting unprecedented financial resources, we Italians must set the trend for adherence to European laws.
Italian behavior "creates a major rift in Europe and pushes an agreement for a solution on the migrant crisis further away," according to Fulvio Vassallo Paleologo, a lawyer and professor of refugee law at Palermo University.
The strategy taken by Italy "fosters divisiveness and may have disastrous effects on topics like the Recovery Plan."